JUVE Guide 2019/2020
09/20/2019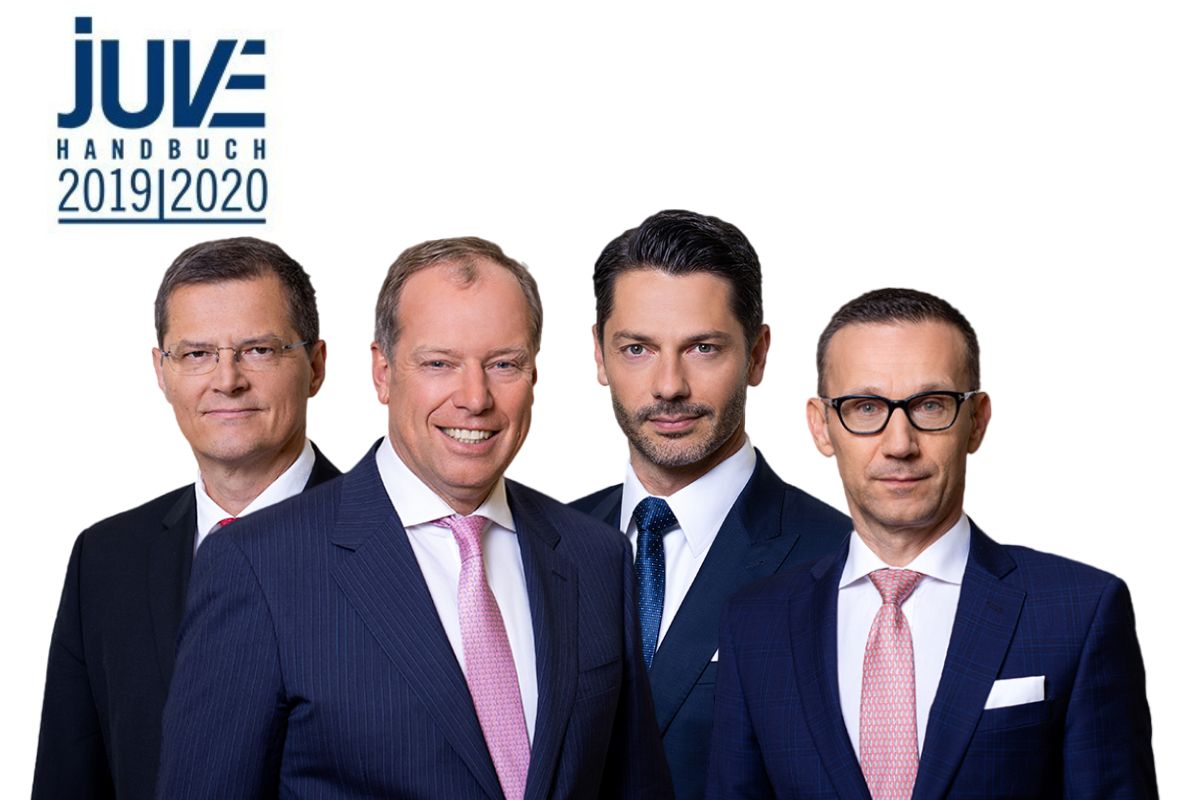 fwp, one of Austria's most lucrative law firms, once again achieves top positions in the areas of company law/M&A, banking and finance/capital market law, real estate and construction as well as antitrust law. fwp partners Markus Fellner, Paul Luiki, Gregor Schett and Lukas Flener are considered the top-level experts of the Austrian law firm.
In the new issue of the annual JUVE guide on law firms in Austria, Fellner Wratzfeld & Partner Rechtsanwälte GmbH is listed as one of the country's most lucrative law firms, not least because of the numerous notable mandates, where fwp provided legal advice on corporate/M&A as well as banking and financing law. Also, the dispute resolution team once again made an essential contribution to its success. Furthermore, fwp is listed with two deals among the ten biggest deals since the beginning of 2018.
Company law/M&A
"The law firm did justice to its reputation and once again made an appearance in the context of significant restructuring and reorganisation cases. Apart from the extensive work on the Steinhoff case, fwp provided legal advice on banking law in connection with the Waagner-Biro insolvency", JUVE, a magazine for business lawyers in Austria, substantiates the top ranking and emphasises the law firm's interdisciplinary practice: "The close cooperation of the corporate practice group with the teams advising on restructuring and banking and finance is what fwp capitalises on." Furthermore, the renowned magazine underlines the high level of expertise with respect to legal disputes. Transactions and providing advice on structuring in difficult situations are listed as particular strengths of fwp.
Beside Markus Fellner, who is "to be reckoned with" according to his competitors, fwp partners Paul Luiki and Lukas Flener are also recommended as legal experts in the field of corporate/M&A.
Banking and finance law
"Their banking & finance practice group, with links to restructuring and litigation, is renowned for its strength. Recently, the substantial Steinhoff restructuring mandate and the banking work in connection with the insolvency of Waagner-Biro group were matters of special significance", this is how JUVE refers to its recommendation and highlights the increasing extent of cross-border advice provided by fwp.
In the legal sector, fwp partner Markus Fellner has the reputation of being a "brilliant" and "extraordinary banking law specialist" with particularly "strong" expertise in the field of restructurings. Furthermore, fwp partner Gregor Schett is recommended with regard to banking litigation.
Real estate and construction law
"fwp remains highly active in the field of real estate and construction law, i.e. with regard to project developments, where it can show its strong focus, combined with know-how, in private construction law", this is how JUVE refers to its recommendation. Particular attention is drawn to legal advice provided to Steinhoff and Ikea.
Antitrust law
"Most recently, the law firm was able to benefit from the increasing importance of antitrust law," and also: "The team has repeatedly, and based on the overall expertise of the law firm, provided legal advice in insolvency cases and reorganisation-related transactions."
fwp partner Lukas Flener has established himself as the 'face of the law firm' to the outside world and is recommended as attorney-at-law especially frequently.